Knowledge
2018-02-06
The results of the modern medical research have clearly demonstrated the health benefits associated with soyfoods consumption.Soyfoods contain no cholesterol or lactose, have been linked to the prevention of heart disease, osteoporosis, breast and prostate cancer, diabetes symptoms and numbers of other major ailments.

The facts that soyfoods contain high protein and low in saturated fat have proven it became an integral part of people's diet of all ages worldwide, regardless of the income level.The health advantages, low cost and the adaptability to local tastes have created a rapidly growing market for soyfoods.By offering the excellent machinery and the technology for the soyfoods, we will help the market for these products grow even further.

Ta Ti Hsing Machinery Co., Ltd. has been developing and manufacturing the soyfoods processing equipments for more than 30 years. Our supply scope covers all the machinery for soyfoods, such as soymilk, soy beverages, bean curd, tofu.......etc, from minimum size to the large scale. If you had any kind of question about the soy foods, please do not hesitate to contact us, Ta Ti Hsing will help you to take full advantage of the growing business opportunity in soyfoods.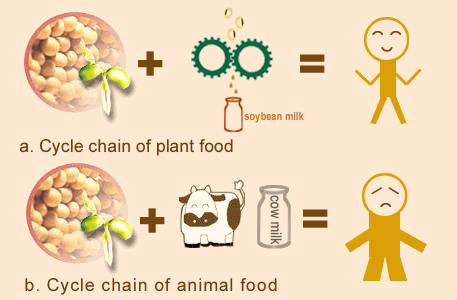 | | |
| --- | --- |
| Comparison of nutrition | |
大地興 點豆變黃金